Forex Secrets – From a 25 Year Currency Trading Veteran – Successful Scalping Strategies from the Dark Side; has been written from the comprehensive standpoint of a quarter century of trials, errors and successes. Every trader is different and while the book is directed at a very broad based audience it tries to force the reader to develop their own scalping strategies using the many tested methods put forth by the author.
The book places a strong emphasis on self risk assessment as well as strict money management techniques. If anything this is really more a book about money management and using well thought out organizational skills to develop a trading algorithm.
Even though the discussions throughout the book are geared towards the Forex markets and scalping, all parts can be applied to other investments and time frames to enhance the reader's investment abilities. Forex Secrets forces the reader into a soul search that can develop and enrich their own style of investing.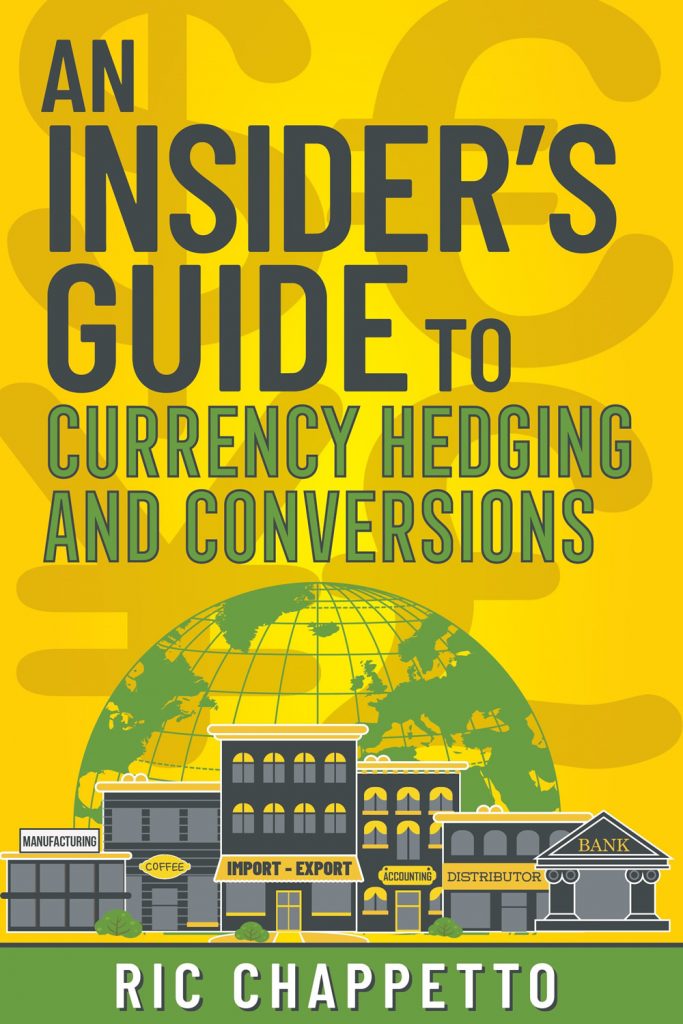 An Insider's Guide to Currency Hedging and Conversions
Discover the undisclosed workings of the secret world of the Foreign Exchange Market. With over 40 years of experience in multiple markets, Ric Chappetto has a unique understanding of the Foreign Exchange Market and the intertwined nature of markets in general. Ric shares with you his 20 years of experience focused on the Foreign Exchange Market through Real-World Case Studies showing both the successful and the not so successful strategies.

"Reads like hedging for dummies, but minus the dummies part. Ric's knowledge from his years of experience will make this comprehensive book the standard guide to hedging in the foreign exchange market. Read it twice." Bob Iaccino – Bob has appeared on CNBC, Bloomberg Television, CNN, and Moneyline in over 700 interviews, and continues to appear in 10 – 15 live interviews per month.

Ric has worked on-site with clients in 16 countries, witnessing how other countries use the Foreign Exchange Market often better than we do. Using this experience, he details in straightforward descriptions the 9 common Foreign Exchange Risks and the 5 commonly used Financial Instruments used to hedge these risks.

In this book, you will learn the following facts about the Currency Markets:
•Comprehensive History of the United States Currency
•Why your "Free Service" can cost you thousands of dollars
•The real meaning of "Market Rate" in this market and how it differs from any other market
•How and why financial institutions do not want you to understand the real pricing used to develop your hedge
•Terms and Jargon used in this private world
•Detailed explanations of when and how to use the many financial instruments available to you for hedging
•Understanding how the Foreign Exchange Market trades-every transaction is based on a trade
•How to develop your own hedging strategy
•How to evaluate Foreign Exchange risk before you enter a New International Market
•Currency Correlations – For example: learn how you can use gold to hedge the Aussie (Australian Dollar)
•Currency conversion (Delivery) and what you're really paying

The Foreign Exchange Market is the largest market in the world. It is larger than all the stock and commodity exchanges combined. However, this market does not trade like these other markets. It is not managed like they are or have the same standards that they have to meet.

Ric shows you how being an uneducated participant can cost you thousands of dollars per transaction, and you will never know you paid a cent for it!