Long-Term Investment Signals
Real Money

Real Account

Real Returns

Real Statements
• February 2019 Initial Investment – $10,000.00
• December 2019 Account up in 10 months to – $18,454.68
• December 2019 Withdrew initial investment – ($10,000.00)
• Account balance closed year-end 2020 at – $56,906.00
• September 2021 Withdrew additional funds – ($10,000.00)
• Account balance closed year-end 2021 at – $126,483.02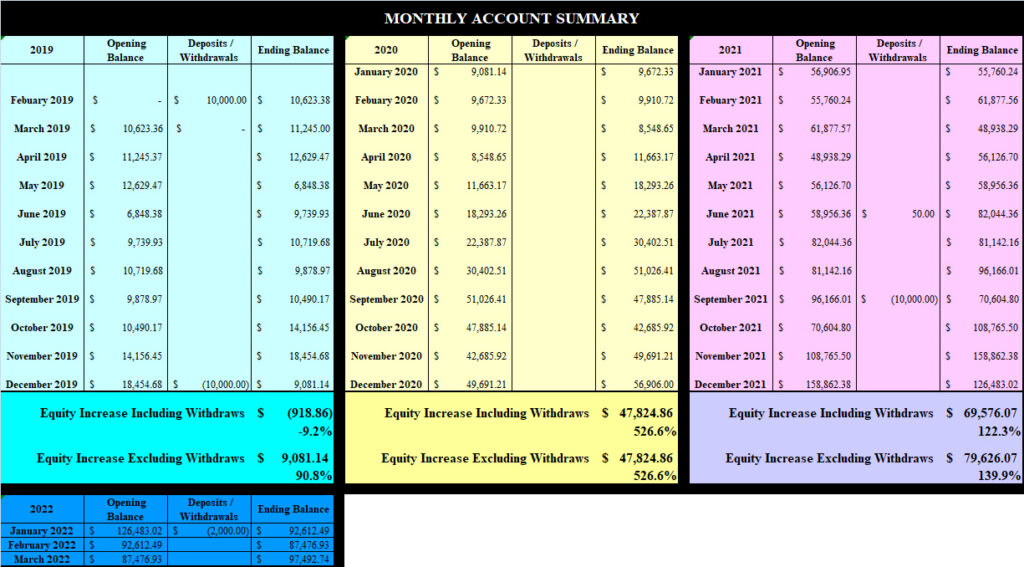 This is for a long-term investment objective – it is Not an active trading program – entry with anticipation of holding the investment 18 to 24 months or, if the underlying instrument hits the price target, or expiration – whichever comes first.
Goal is to make between 3 and 5 times the initial investment in the expected time frame.
A minimum of 1 entry signal per month is initiated. You will need an account that has the ability to execute stock option trades, future options trades and stocks on margin. We do not execute trades in your account, we only provide our research to you along with what we are entering. You make your own decision if you want to do exactly what we are doing or if you choose to make a different entry or no entry at all. For our account we try to keep each entry to $2,500 (USD) or less.
Upon registration you will receive 90 days of past signals of which you may be able to still enter. Since this is for long-term opportunities there are No Free Trials and No Refunds!
SAMPLE of what you will receive when a signal is initiated.
Check Out the Real Account Statements!
Every statement for every month since inception. NO spreadsheets, NO hypotheticals, just the REAL monthly statements.
Subscription Pricing is $297.00 per Month automated payments.
Have Questions – Call or email us.
312-324-4888 … please leave a message with the following info:
Your name
Your phone #
Your time zone
The best day and time to return your call